Our Vision Statement
"At Lancaster Smiles, we stand for service to others. Our innovative training and personalized care make a difference in people's lives, so they feel better about themselves. Our patients share the same values, truly care about their overall health and are committed to the care of their oral health as well. As a team, we are dedicated to always make our patients feel at home. We achieve the highest standards and results by eliminating any obstacles between our patients and the care they deserve. We build our legacy by doing what's right for you, and to us, that's what matters most!"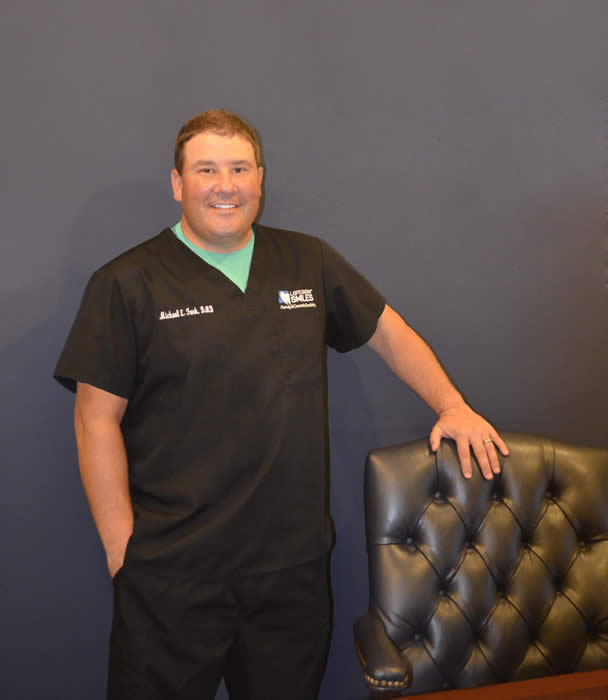 Michael E. Funk, DMD
Dr. Michael Funk was born and raised in Lancaster County, Pennsylvania, and graduated with his Bachelor of Science degree in neuroscience from the University of Pittsburgh in 1993. He received his Doctor of Dental Medicine degree from the University of Pittsburgh School of Dental Medicine in 1998 with honors. In addition to continuing his education on a quarterly basis each year, Dr. Funk is a member of the SPEAR® Dental Continuing Education Club. He is also a member of the American Dental Association, Pennsylvania Dental Association and the Lancaster County Dental Society.
Dr. Funk served in the U.S. Army Reserves Dental Corps from 2001 to 2010 when he was honorably discharged as a Major. Dr. Funk was deployed twice during his service as a dentist, providing dental exams, screenings and treating hundreds of soldiers prior to their deployment overseas.
Dr. Funk has been practicing since 2000. He enjoys all aspects of dentistry and provides a wide range of care for his patients to help them maintain their beautiful healthy smiles for a lifetime. He has been trained in CEREC single-visit crowns, digital CAD/CAM milling restoration such as crowns, inlays, onlays and implants, ClearCorrect orthodontic clear aligners, NDX nSequence® Guided Prosthetics® and NeoArch™ guided full-arch implant prosthetics (same-day teeth).
He and his wife, Colleen, reside in Lititz, Pennsylvania, with their two cats, Paco and Paul, and their mini Bernedoodle, Murphy. Colleen and Dr. Funk volunteer at Lancaster Farm Sanctuary and avidly play in the USTA and Central Pennsylvania tennis leagues.
Meet Our Team
Please see below for more information on our dental team at Lancaster Smiles. If you have questions regarding our dental services in Lancaster, Pennsylvania, please call us today! We will happily address your inquires and help arrange your visit with our dentist, Dr. Michael Funk.


Shawnya Castaneda – Expanded Functions Dental Assistant (EFDA)
Shawnya graduated from the dental assisting program at Lancaster County Career & Technology Center and the expanded functions dental assisting (EFDA) program at YTI Career Institute. She is also currently enrolled in the pre-dental hygiene program at HACC. She always strives to do her best and enjoys learning and using the latest technology and products to benefit each patient. She likes our family-like atmosphere and modern facility. Shawnya lives in Lancaster with her husband, three teenage children, four dogs and a cat. Outside of the practice, you may see her swimming, traveling or running!
Kelly – EFDA/Certified Dental Assistant
Kelly is a Harcum College graduate, where she earned her associate degree in expanded functions dental assisting and dental assisting certification. Since 2013, she has loved working in our new state-of-the-art office, which allows her to provide her patients with extraordinary restorative care, such as crowns and bridges.
Lisa Lehman – Office Manager
Lisa has been with Dr. Funk's office since 2011! She loves getting to know our patients and working with a great team who always does their best to serve our esteemed guests well. From scheduling appointments to filing insurance claims and following up after each patient's reservation with us, Lisa helps each patient who visits our office receive the care they need and feel comfortable and informed. She and her husband, Daniel, have three daughters, one son-in-law and three granddaughters, whom they refer to as their "cupcakes." Lisa enjoys gardening, traveling and visiting coffee shops.
Deb Brubaker – EFDA/Dental Hygienist
In 2013, Deb began working at Lancaster Smiles. Since then, she has been providing professional preventive services through her dental hygiene care and educating patients on how to maintain a healthy smile and their oral health care. Deb graduated from Harrisburg Area Community College with her expanded functions dental assisting license, dental hygiene degree and anesthesia license. She enjoys working in our state-of-the-art facility with dedicated and tremendously caring co-workers. Deb is a wife and mother of three. Outside of work, she enjoys bike riding, baking and spending time outdoors with family and friends.
Lisa Kibler – Dental Hygienist
Lisa joined our dental team in 2018 and provides quality care and education to our guests. She graduated from Harcum College in 2005 and is excited to be a part of a practice that provides comprehensive care to every patient. She and her husband, Drew, have three children: a daughter, Cali, and two sons, Braeton and Reed. Lisa enjoys traveling and spending time with her family in her free time.
Stephanie Newswanger – Dental Hygienist
Since 2014, Stephanie has treated our patients the same way she would want her and her family to be treated. She tries to give each patient a gentle, painless experience and make them feel important and welcome. She has an associate degree in dental hygiene from West Liberty State College as well as an anesthesia license. Stephanie enjoys the family feel of the office and the vision we follow as a practice. She is married with two children, Kendal and Cade, and they have a chocolate lab named Callie. Outside of work, she enjoys spending time with her family, going to the beach and exercising.